Publish date:

10 November 2022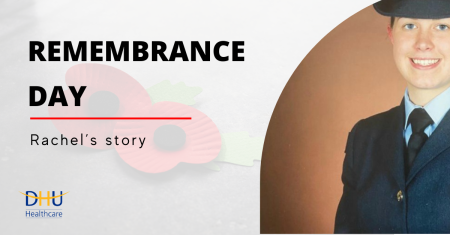 We're marking Armistice Day and Remembrance Sunday by speaking to some of our DHU Healthcare colleagues who have served in the armed forces.

On Remembrance Sunday we commemorate the British military and civilian servicemen and women who contributed to and died in the two World Wars and subsequent conflicts whilst Armistice Day, November 11th, marks the end of the First World War.

We spoke to Rachel Hodgett, a Paramedic at Loughborough Urgent Treatment Centre (UTC) who spent nine years serving in the RAF. For her, occasions such as these are a chance to reflect on her career, on incredibly strong friendships and support as well as both her and her family's part in shaping the world in which we live today.

Rachel said: "My grandparents were in the military and that was in my mind when I was in my early teenage years and went to a Red Arrows show at an open day. There was an RAF recruitment stand there so I went to speak to them and decided there and then that it was a career I wanted to pursue. I joined the RAF Cadets shortly after and those decisions I made all led to my journey through the RAF.

"Things didn't all go to plan, I didn't go to University but decided to join the RAF when I was 20 and never looked back. They looked after me, even providing me with the funding to complete a Paramedic qualification, and I spent some of my spare time outside the RAF volunteering as a military co-responder with the Ambulance Service.

"I was an Imagery Intelligence Analyst so a lot of what I did involved interpreting aerial or satellite imagery that could be used as intelligence for air teams or those on the ground. It was intensive work, images came from multiple sources and you knew that what you were doing could be critical to operations and was sometimes carried out in intense, time-pressured situations.
"You have to be calm under pressure and make difficult decisions when everything is moving at a hundred miles an hour, something I had to do regularly when I was deployed to Afghanistan. It helped me prepare for my role as a paramedic in the ambulance service where you would frequently be first on the scene and have to make snap decisions, under pressure to provide critical treatment; a role that led directly to what I do now at DHU. I don't know who or what will come through the door at any moment at Loughborough UTC.
"The variety of the role within the RAF has given me a real taste for development and enhancing my skills. For example, I have recently begun completing a Masters at University to become an Advanced Clinical Practitioner (ACP). My time in the RAF, having to adapt and work in pressurised environments has led me to this point and I'm thankful of my time in the armed forces."

Both days serve as poignant reminders for Rachel whose family has a history of military service and has a number of friends from her time in the RAF. Some are still serving, some like Rachel have used that experience and wealth of skills to forge a new career whilst others are no longer with us.

Rachel added: "When I observe the silence, I use it a chance to remember. The bonds you forge with those you serve with are hard to break as you have an incredibly intense shared experience. The adjustment in leaving service life and adapting to civilian life was difficult but it is something all veterans go through and we would help each other through that change. These friendships are support networks as well, so you never really lost touch.

"I use it to remember those who have died in service and I have lost colleagues, both whilst I was serving and since. Some of my comrades who stayed in the RAF or military service lost their lives in other conflicts, so Remembrance Day gives me a moment to show my mark of respect to those.

"When I see other people bowing their heads to honour those who have served, whether it's at work, during a service or when Cubs and Scouts march, it makes me so proud. I've been a part of that life that has helped to protect this country, stand up for other countries who maybe can't stand up for themselves and make a real difference. It's a moment of shared understanding, respect, compassion and pride for me to have lived that life and I wouldn't be where I was today if it wasn't for my time in the RAF and those who supported me."