Our History (Timeline)
Derbyshire Medical Services (DMS) was established to provide out of hours cover through a group of local GPs, or a 'co-operative', for GP Practices within Derby. Its success was such that by 1995 the company had expanded, reorganised and relocated to purpose built premises in central Derby.
DMS became Derbyshire Healthcare (DHC) to provide a range of unscheduled clinical care and related services for the local health community. This was done on a not-for-profit basis and was built on the services and expertise developed in its predecessor company, North Derbyshire Doctors Ltd, over the preceding 10-years.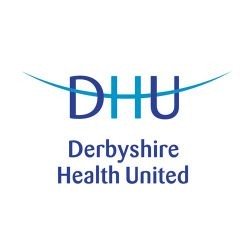 Derbyshire Health United (DHU) was created by merging the Chesterfield based company DHC and Derby City based DMS.
The Derbyshire NHS 111 contract was awarded to DHU to provide the call handling capabilities for non-urgent health enquiries. The year also saw the introduction of Community District Nursing out of hours in the evening and overnight, run by DHU nursing teams.
DHU won the NHS 111 contract for Northamptonshire and Nottinghamshire to go alongside the facility offered in Derbyshire. This means DHU provided NHS health advice to non-urgent callers across large parts of the East Midlands.
Further success with NHS 111 contracts with a successful bid to provide the service for Leicester, Leicestershire & Rutland (LLR) enabling DHU to provide non-urgent call responses to a growing proportion of the Midland counties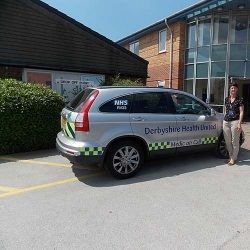 Three key services are added to DHU's portfolio of NHS provision. A GP streaming service was created within the Chesterfield Royal Hospital Emergency Department to enable staff to direct patients whose reason for presenting would be better treated by a GP rather than emergency care. They were then able to use that services alongside the diagnostic services already present at the hospital.
The Hardwick Acute Home Visiting service was also developed allowing GPs to make home visits to patients unable to make a trip to a clinic for health reasons. The service was intended to reduce hospital admissions and prevent serious illness by ensuring this patient group is seen at an earlier stage.
A similar venture was started at the Erewash Clinical Hubs where another Acute Home Visiting Service was introduced, run by DHU staff.
2016
DHU 111 (East Midlands) CIC is commissioned to provide the NHS 111 service for Derbyshire, Nottinghamshire, Northamptonshire, Leicestershire, Leicester and Rutland, Lincolnshire and Milton Keynes.
2016
DHU Healthcare steps in to provide a range of out of hours Urgent Care services for Leicester, Loughborough and Rutland (LLR). During the same year DHU provides a GP streaming service to the A&E department at Derby Teaching Hospital following the success of the same service at Chesterfield.
2016
Derby Teaching Hospital A&E Primary Care Streaming
2016
Erewash Health On-Day Services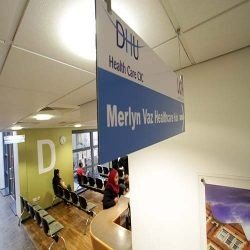 Won Milton Keynes NHS 111 Telephony Contract
2017
DHU Healthcare CIC Formed
2017
Two Major Services Added
Won the Integrated Urgent Care Services contract for West Leicestershire including LUCC (JV with 4FED) & Won Urgent Care Home Visiting services contract across LLR.
2017
LLR Community Nursing (Overnight)
Servicing an estimated 12,000 patients a year, and operating 7 nights a week, the service delivers assessment, interventions and patient centred outcomes enabling patients with urgent nursing needs to remain in their place of residence.
2017
Merlyn Vaz PCC & GP Practices (Partnership With Leicester City Health)
In October 2017 DHU Urgent Care (LLR) successfully mobilised Merlyn Vas Healthcare Hub, and The Heron and St Matthews General Practices in partnership with Leicester City Health.
Three Urgent Health Care Hubs In Leicester Mobilised
Successful mobilisation of three Leicester City urgent health care hubs in partnership with Leicester City Health located at Belgrave Health Centre, Saffron Surgery and Westcotes Health Centre.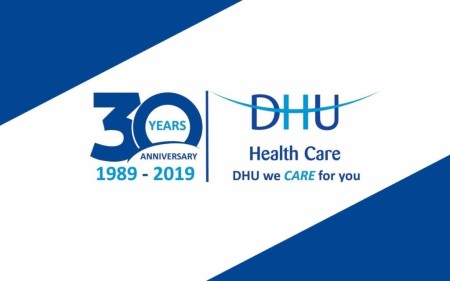 Partnership Between DHU And Milton Keynes Urgent Care Services CIC To Provide Integrated Urgent Care
DHU Healthcare CIC forms a Joint Venture with Milton Keynes Urgent Care Services Community Interest Company (MKUCS CIC).
2019
DHU Take On Out Of Hours Services In Northamptonshire
Northamptonshire GP Out of Hours contract sees DHU Healthcare's services being rolled out to cover 780,000 patients across Northamptonshire.
2019
DHU Healthcare Celebrates 30th Anniversary
We celebrated the company's 30th birthday of DHU Healthcare on Friday 29th March. The date marks the day the company began operating out of hours health care services in 1989.

Ten Years of NHS 111 in East Midlands
Our NHS 111 service celebrated its tenth anniversary – during a year of unprecedented demand it continued to support the people in the East Midlands and beyond.
DHU Healthcare begin to provide the NHS 111 Service to Bath, North East Somerset, Swindon and Wiltshire