Publish date:

10 November 2022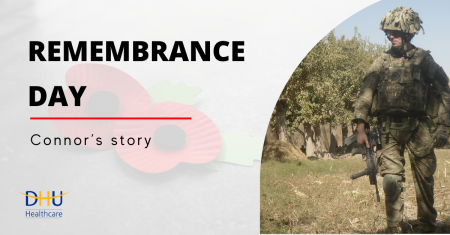 We're marking Armistice Day and Remembrance Sunday by speaking to some of our DHU Healthcare colleagues who have served in the armed forces.
On Remembrance Sunday we commemorate the British military and civilian servicemen and women who contributed to and died in the two World Wars and subsequent conflicts whilst Armistice Day, November 11th, marks the end of the First World War.
We spoke to Connor Crabb, a Training & Development Manager in our NHS111 Derby team who spent six years serving in the Army.
Connor said: "I served as a Class 1 Combat Medical Technician, a primary care role dealing with acute illnesses and injuries. In wartime that means dealing with traumatic injuries that can occur as a result of battle - that could be anything from gunshots and amputations to broken bones. We were also on hand to help with medical evacuations in hostile conditions.
"I left school to join the Army at an early age. I knew I wanted to help people and the Army was a real opportunity to do that, as well as travelling the world and seeing the sights. It's quite a contrast from what everyone else was doing, whilst all my friends were at university having fun, I was fighting in the Afghanistan conflict.
"After a while I got tired of being away from home and NHS111 seemed like a natural fit for a new career. You don't have any formal healthcare qualifications when you leave the Army so I couldn't become a paramedic or a nurse without starting from scratch. Communication is so important for both roles. If you can look after and assess a casualty in the middle of a battlefield with a Black Hawk helicopter whizzing right above you, then you can communicate advice effectively over the telephone.
"Our family has a long history of serving in the armed forces, with my grandparents, Dad and four cousins all having served. My Dad was Drill Instructor for the RAF, which as you can imagine has led to a good bit of friendly rivalry between us.
"Remembrance Day means a great deal to myself and my family. It's something I always like to celebrate and support each year. It's a good excuse for me to wear my medal and I usually attend either a local parade or the one in Derby. I know from having lost friends on my tour how important it is for us all to show our respect and remember those who died for our country.
"Yes, it's a sad day, but also a time to celebrate the lives of friends I have lost and the commitment and sacrifice they made towards their country."