Publish date:

26 September 2023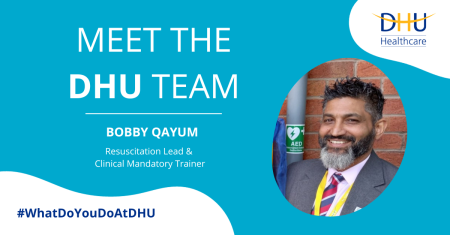 At DHU Healthcare, we like to celebrate all of our colleagues to show how what they bring to the table contributes to your patient care.
Today, we want to introduce you to Bobby Qayum, who has been an integral part of our organisation for the last five years. Currently serving as our Resuscitation Lead and Clinical Mandatory Trainer, Bobby's journey within DHU is a unique one.
Bobby's career has been involved in a wide spectrum of industries, from Finance to Film & Television. However, it seems that his experiences in the Emergency Services proved to be a revelation that ignited his passion. Like many of our colleagues at DHU, his professional background is varied with each skill contributing to what he brings to DHU.
Speaking to us, Bobby explained: "From a clinical perspective, outside DHU, I still proudly serve as an Emergency Care and Advanced Paramedic where it's a privilege to be able to engage in frontline duties. This hands-on experience provides me with a genuine insight into the challenges and needs of my colleagues. It's about walking the talk, and I believe my lived experience as a clinician gives me an authentic approach to supporting my fellow healthcare professionals.
"At my core, my driving force is a deep-seated passion to help others and make a meaningful difference. As the Resuscitation Lead, I see a remarkable opportunity to align my personal values with DHU's mission. My aim is nothing short of transforming our organisation into a beacon of life-saving excellence. I see a future where every DHU staff member is not only trained but empowered with life-saving techniques. This isn't just about skills; it's about instilling the courage to step up and make a difference in critical situations.
"One of my most important initiatives is to provide free and accessible training and development opportunities for all DHU staff, regardless of their role. I firmly believe that everyone should have the chance to acquire life-saving skills. This effort promotes a culture of preparedness and compassion within our organization. It's about fostering a sense of unity, where each team member can contribute to our shared goal of saving lives.
"In my day-to-day role, I'm deeply focused on compliance and strategic direction. I ensure that all DHU sites remain compliant, meeting statutory requirements and training standards. It's about setting the bar exceptionally high for our organisation. I'm aiming for DHU to not just meet but exceed standards, setting us on a path to become a true leader in the healthcare field.
"Next month I am eagerly anticipating Restart A Heart Day, an event that made a significant impact across DHU last year. My aim is to take this initiative even further, aligning it with DHU's core values. Through resuscitation training and information dissemination about defibrillators, I want to raise awareness and equip more individuals with the skills needed to save lives."