Publish date:

22 November 2022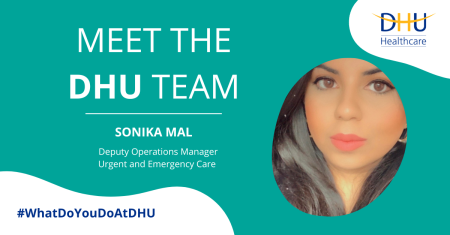 The first thing that comes to mind when people think about DHU is NHS111 and Out-of-Hours care, but did you know that we also deliver Primary Care services? We care for patients in three GP surgeries across four locations within Leicester: Thurmaston, Bowling Green Street, Heron and St Matthews.
Over the last few months, we have also been updating each of the practice websites to make sure that they offer the best experience for our patients, contain up-to-date information on our services and also reflect our new branding.
We spoke to Sonika Mal, who up until recently was an Assistant Practice Manager for the Heron GP Practice in Leicester, before her promotion to Deputy Operations Manager for our Urgent and Emergency Care service and here's what she told us…
"I started working in Primary Care back in 2014 as a GP Practice receptionist and when DHU later took on the company in 2017 I became a team leader. I was promoted within a year to become the Assistant practice Manager for Heron GP Practice and now I have most recently been promoted to my Deputy Operations Manager position for urgent care centres within DHU. It's a great example of commitment and loyalty!
"My main focus is being on the ground with our team of fantastic receptionists and being there for them providing support, delegating and assistance. Working within Primary Care is very busy and involves being extremely productive, committed and adaptable to changes which could happen at any time. A lot of the role involves using my own initiative and being proactive to ensure you can handle any hurdles that may come in the way.
"A typical day always starts with a strong coffee! Most of my days are packed with meetings, moving around all Urgent Care Centre sites to be on site with the teams and keeping up with new changes and processes."
Since taking on the GP Practices DHU have been committed to using our experience to improve each location, our patient care led approach has seen all three successfully improve their CQC rating to 'good'.
Sonika continued: "On a personal level, the proudest moment in my career so far has been leading and being a part of our fantastic team who achieved a 'good' rating from a CQC inspection! As you can see from my experience of working within the company over the last five years, DHU can help you achieve your career aspirations, with a wide range of different roles available and training.
"If I were to give anyone any advice it would be to believe in your own ability. If something is achievable, then you can achieve it. Go out there and reach for what you want as it is already yours! Practice peace, truth, contentment, and kindness, as this is the most excellent way of life."
Thanks to Sonika for telling us about her role and keep your eyes peeled for DHU's next #WhatDoYouDo.
Interested in finding out more about DHU? Why not check out our Facebook, LinkedIn, Twitter, and Instagram pages and follow us for more updates.