Publish date:

15 March 2023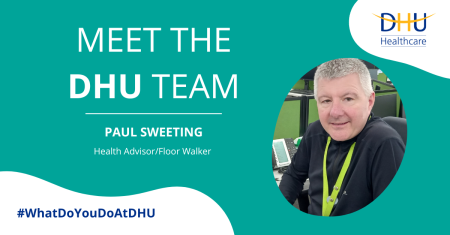 Our weekly 'What Do You Do at DHU' feature takes on a topical trend as we explore the role of a colleague who usually works in Derbyshire but has based himself in the West Midlands for the past few months.

Paul Sweeting is a 111 Health Advisor in Chesterfield but has spent much of the past few months in Oldbury near Birmingham to help welcome our new colleagues who took national contingency calls ahead of taking over the West Midlands 111 contract on 1st March.

It's the perfect example of how we enable colleagues to move and work, between and within our different geographical sites. Here's what Paul has been up to…

"I've been with DHU Healthcare for around two and a half years following a career in car insurance accident claims. I worked on the phones to assess the claims, find out more about their injuries and do what I could to help them, so I've got a lot of experience speaking with people who are anxious, need help and have complex questions or situations.

"I help people and make a difference…"

"The difference between that and working with patients is that my previous role was within an industry that, for all intents and purposes, was profit-based. DHU is a not-for profit organisation and the overwhelming aim is to ensure the patient is given the right advice and treatment at the right place. The decisions we make and advice we give, it's a public service and I feel much more passionate about what I'm doing now with a firm belief that I help people and make a difference every time.

"My role is usually based in Chesterfield, I have been a Health Advisor the entire time so like to think I have a good knowledge of the system and how to speak to patients. We have new starters in Chesterfield quite often but as a new base but, being a new building and a new service, there were far more in Oldbury. The Coaches clearly had their hands full so I wanted to know if I could help in some way and provide the benefit of my experience.

"There was an opportunity for what we refer to as a Floor Walker. This involves offering non-clinical advice to Health Advisors such as how to navigate Adastra, how to access certain pathways and systems, where to find clinician telephone numbers, those kinds of questions. If I can't help, I can pass it onto one of the Shift Leads or Clinicians who can pick it up. I suppose it's taking these questions away from those who have more specialised knowledge, enabling them more dedicated time to deal with more complex queries.

"It gives me a great sense of wellbeing…"

"From my perspective, it's given me an insight into a different advice centre, a different part of DHU and a new environment. It also helps me to refresh my memory about some of the things that I probably take for granted such as how the systems and processes work. It gives me a great sense of wellbeing that I'm passing on my experience the next generation of Health Advisors in a new place that will ultimately be of benefit to our patients.
"To be there for our new starters is reassurance for them and proof that as long as you have the attitude, compassion and will to work that, with time, you will have the experience to progress and have the answers to those same questions. It's been wonderful to see how enthusiastic those new to DHU have been and how eager they are keen to encourage and support each other to provide the best care for our patients.
"In terms of my own progression, I have thought about coaching, particularly now I've had a taste for giving advice and answering questions, but for now I'm happy doing what I'm doing. I think there is always room to improve and I'm by no means an expert, so I'll give it some more time before making my next move. I've thoroughly enjoyed offering my services at a different DHU base and would highly recommend it to others if the opportunity comes along."