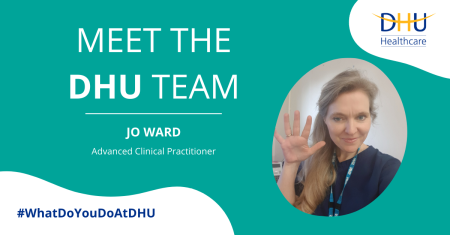 Here at DHU we love to tell you about the many different roles we have here and we're delighted to introduce you to Jo Ward, one of our Advanced Clinical Practitioners, or ACP for short.

An ACP is a highly experienced registered health care professional, educated to Masters Level who can work with a high degree of autonomy and manage complex decision making. They manage complex clinical care in partnership with individuals and families to analyse and synthase such health concerns in a wide range of settings.

At DHU, we're beginning to see the potential that the remote ACP role is having as a clinical decision maker across 111 and within Out of Hours settings. Jo joined us in March 2021, almost exactly a year into the Covid-19 pandemic and is helping to build up a team of ACPs.

Complex Needs

Jo said: "Like many ACPs I have a great deal of experience across a broad level so I'm able to use that to manage and prioritise the calls for 111 remotely. I'm able to assess and plan the treatment of patients with very complex needs and symptoms and refer them to the most appropriate place for treatment. For example, I will be able to see from the clinical notes and history if there's a patient in the system that may well be referred to A&E but doesn't need to go there. I can then prioritise and assess them accordingly before referring them to the right place. Part of this assessment involves using my professional judgement, expertise and clinical decision-making skills to remotely assess undifferentiated patients and complex situations.
"My background has always had a remote side to it, working out of hours in Liverpool and Chester over the past 18 years. As an ACP I recognise when patients need face to face assessments by using my clinical acumen, history taking and diagnostics skills. Bringing highly skilled remote ACPs to work alongside 111 Health Advisors and pathway trained nurses strengthens the health system to better support primary and emergency care and vice versa."
Jo's remote DHU role is complemented by her other advanced practice clinical roles, her out of hours home visits to acutely unwell elderly or housebound patients with acute symptoms, Covid hot-hubs during the pandemic, supporting GP practices and teaching health professionals. She has worked as a Registered Nurse for thirty years as well as being an adult nurse, paediatric nurse, health visitor, public health nurse and a Non-medical Prescriber. Jo brings this experience to her DHU 111 role with significant Urgent Care and around 15 years' experience in a public health role in Liverpool. She also worked as the Refuge Lead for Domestic Abuse in one of her many roles.

Encouraged to develop

She added: "I always say to my colleagues that I feel my roles and experience have helped me to develop a 360 degree helicopter view of our health services alongside strong knowledge of population health. This role works alongside my other roles and enables me to continue developing my clinical capabilities across the four pillars of Clinical, Leadership, Research and Education. DHU has always encouraged me to maintain my existing clinical roles to continue developing as an ACP within my specialism areas of urgent and unplanned care and primary care whilst committing to some ad hoc University teaching delivery teaching. I absolutely love opening up the Directory of Services, knowing how the services work having worked in so many of them.

"I've been an advocate for remote advanced clinical decision making for a long time. The pandemic has changed the health provision landscape in the way patients access care and developed a hybrid type of ACP role. Within the out of hours setting that I work in, there was much caution about providing home based clinical assessment, hence the opportunity was only offered to health professionals who were shielding. My DHU came when my personal circumstances at home changed dramatically. I was looking to develop a hybrid style working week of remote home based working alongside other commitments. I felt DHU understood the potential of the remote ACP in managing complex decisions, whilst the diversity of the role and wide geographical area enables me to speak with a variety of patients and support electronically by prescribing to pharmacies all over the country.

Jo has a Master's in Applied Public Health and her current level of studies will mean that when she completes her almost completed Dissertation she will have her ACP qualification, she will have earned her second Masters in Advanced Clinical Practice.

Continue to become stronger

"DHU has added another element of specialism and robustness to the service that 111 offers. When working remotely, clinical leads know that I'm available to support and help make an advanced clinical decision. It helps to provide a high level of clinical insight and expertise to support our Health Advisors and we need to attract more people to it.

"I'm a firm believer that NHS 111 will continue to become stronger as a healthcare provider, having ACPs within the workforce is a tenacious and innovative step by DHU. Thousands of people call 111 every day instead of going to A&E, their GP or another sector of a health system that is already under severe pressure. Yes, some of those patients will be referred but they will be referred to the right place. Patients can receive treatment immediately when being assessed by an ACP who can send electronic prescriptions to the patient's pharmacy of choice. Equally, if clinically appropriate, the ACP can speak with the patient's own GP and I have done this on a couple of occasions. I have spoken to the SDEC (Same Day Emergency Care) clinician many times about patients I'm looking to refer to ensure the patients' needs are met safely and their ongoing assessment takes place in the right setting.

"I'm so proud to have taken on this role and that DHU has recognised how to use it remotely. I've increased my hours since starting and am delighted to see the ACP team growing since I started a year ago. It can only be a benefit to our patients, DHU and the wider health system; I hope we continue to grow as a team of ACPs and we are able to realise the full potential of what we've started together".
Thanks to Jo for telling us about her role and keep your eyes peeled for DHU's next #WhatDoYouDo.
Interested in finding out more about DHU? Why not check out our Facebook, LinkedIn, Twitter, and Instagram pages and follow us for more updates.