Publish date:

24 January 2023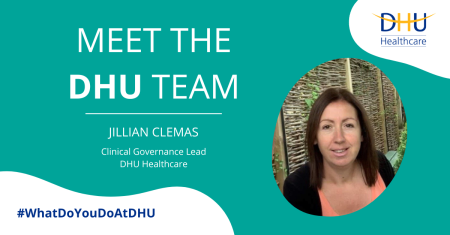 We've just signed the Armed Forces Covenant, a show of support for colleagues within DHU Healthcare who have served and a promise to treat them with compassion and respect.

There are a number of colleagues, some of whom we featured to mark Armed Forces Day, Remembrance Day and Armistice Day, who have previously served and now use the skills they have developed here at DHU.

One of those is Jillian Clemas who left the RAF in October 2022, joining DHU as a Clinical Governance Lead in the same month, so we wanted to find out more about her story…

"I actually wanted to pursue a career in healthcare straight from school, specifically as a paramedic, but where I lived in Northants you had to be 20 years old and have held a driving license for two years. I couldn't do that straight from school so went to work in a warehouse where I met a lady whose husband worked in the Armed Forces. I found out it was possible to have a healthcare role whilst serving and be supported through training so, after a bit of research, I joined the RAF.

"So, I started in May 2000 and trained as a Student Nurse for three years in Portsmouth before I was posted to MDHU Peterborough, a military hospital. There I completed six weeks Aeromedical Evacuation training, qualifying as a Flight Nurse in April 2004. I then went on to complete a degree in Critical Care, qualifying as a Critical Care Flight Nurse in Nov 2008.

"It was quite a job! I would be based in the UK for some of it, MHDU Peterborough, RCDM Oxford, DMRC Headley Court and RAF Brize Norton, but I also did an operational tour of Iraq and two tours of Afghanistan. In the UK I'd be on call to, at a moment's notice, fly overseas to bring back service personnel injured in action to give them lifesaving treatment in a helicopter or plane.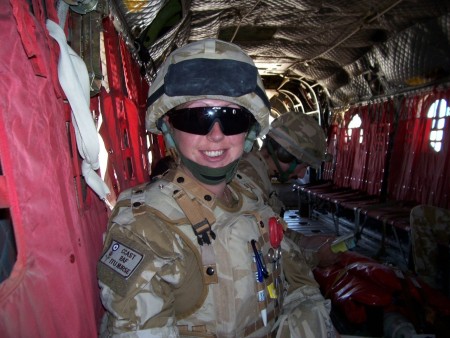 "It's different to working in a hospital. If you need a specific piece of kit or medical instrument, you better hope you brought it with you so planning was even more essential, whether it's medical gases, battery power or a scalpel. Looking after somebody who is critically ill for eight hours in the air is tough. You have to deal with the noise, turbulence and enclosed environment, although we mainly flew C17 military transport planes which were huge and not as affected by turbulence.

"During tours, we would transport patients by helicopter between medical facilities within a war zone. Again, we would have to administer critical care but we would routinely be shot at and low level tactical flying doesn't create the ideal conditions for sensitive, detailed, critical care. It could genuinely be frightening at times.

"Anyway, it was whilst I was serving at Headley Court that I did four and a half years in a governance role and from then it was always in my mind to return to it. I was given time and resources to study and gain a wider skill set alongside the qualifications to be able to move in that direction.

"I left the RAF, which was an incredibly difficult decision for me, for two reasons. For my family, I needed to put roots down and create a family home for my kids, to give them stability, a permanent school and the chance to make good friends. Secondly, I wanted to be the master of my own destiny. In the RAF you go where the job takes you; I can now make my own choices, including the decision to work in governance with DHU.
"I've developed a number of life skills, proving without a doubt that I can work under pressure, I can't think of a more intense environment to deliver care than in the back of a helicopter under fire. There's teamwork, leadership skills, working autonomously and knowing what needs to be done. Attention to detail is instilled into you at every turn and that's a key part of my governance role.
"I think the work DHU has done with colleagues in the armed forces is superb and it can be a difficult transition so working in an organisation, in a team that recognises that is a comfort. The RAF isn't just a job, it's a whole way of life and I have a lot of friends for life with whom I've been through a lot. The sacrifices they make, that I made, is something I'm very proud of and will always look back on with affection as I look forward to this new challenge."
Thanks to Jillian for telling us about her role and keep your eyes peeled for DHU's next #WhatDoYouDo.
Interested in finding out more about DHU? Why not check out our Facebook, LinkedIn, Twitter, and Instagram pages and follow us for more updates.