Publish date:

28 June 2022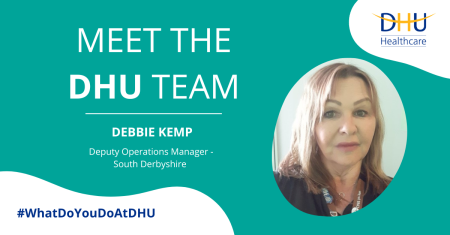 In this week's #WDYD we speak to Debbie who has worked at for DHU for 17 years this August.
Debbie said: "I started working for DHU in August 2005, when we were known as Derby Medical Services, as a Health Advisor and Receptionist; within a year I became a supervisor for the out of hours service and from there progressed to Deputy Transport Manager. I then moved over to Support Service Lead in 2015 before having a title change in 2021 to become Deputy Operations Manager.
"I currently manage the day-to-day staffing of all our South Derbyshire bases and line manage the Health Care Assistants, Reception, UCD (Urgent Care Derbyshire) Coordinators and Phlebotomy staff, which is approximately 60 staff members in total. I complete Rotas, timesheets and ensure all mandatory training is up to date.
"A typical day for me usually starts at 7am, ensuring the overnight UCD Coordinator has not had any issues to report, check for staff sickness or resolve any other issues that have occurred during the night shift. I then check our daily reports, making sure we are maintaining a high standard of patient care by hitting our targets for home visits and Primary Care Centre appointments. Every day is different for me, I attend meetings about phlebotomy contracts and some days complete site inspections, staff appraisals and spot checks.
"I absolutely love working for DHU. I feel we are like one big family! I like how we have our DHU values and I feel every day we do the best we can for our patients.
"I have recently been recognized with a Limelight Award for dealing when I dealt with an extremely aggressive patient who became violent and I think this has to be one of the proudest moments in my career. However, I feel proud every day when I see my colleagues achieving their goals and see our patients telling us that they've had a good experience visiting our services.
"Outside of work I love to challenge myself fitness wise. I have completed two white collar boxing matches and raised more than £2000 for cancer research. Most recently I completed a tyre challenge on 21st May 2022 when I walked 13 miles with a large tyre on my back to raise money for my local fitness group. This will enable us to buy new equipment and pay for a venue where we can have out classes on rainy days as we currently train on Shipley Park.
"If I was to give anyone any advice it would be to never let anyone tell you that you are not good enough. Prove them wrong and fight for the person you want to become!"
Thanks to Debbie for telling us about her role and keep your eyes peeled for DHU's next #WhatDoYouDo.
Interested in finding out more about DHU? Why not check out our Facebook, LinkedIn, Twitter, and Instagram pages and follow us for more updates.