Publish date:

28 September 2022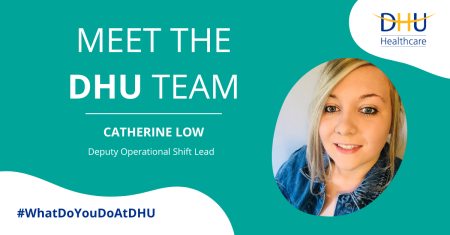 This week we are talking to Catherine Low who has recently taken on the new role of Deputy Operational Shift Lead within our NHS 111 service. Cat explains how she has developed within her time at DHU and what excites her about this change in role.
Our Deputy Operational Shift Lead role (formerly known as a Senior Health Advisor) is a new position within NHS 111 that has additional responsibilities. It includes giving health advice to patients, dealing with operational queries from staff and external organisations as well as assisting the operational shift leads with performance delivery.
Catherine said: "I first started my journey at DHU as a 111 Health Advisor back in July 2015. Since then, I then progressed towards being a coach and was fortunate enough to help out with recruitment in between shifts. I enjoyed all of that but wanted to continue developing further so worked myself towards becoming a Senior Health Advisor, a position I achieved in April 2018.
"On a day-to-day basis, I give advice via our non-clinical floorwalkers and Ncal lines, deal with operational queries from colleagues within the Advice Centre alongside questions from external organisations. I also touch on performance delivery queries from Operational Shift Leads so all of this involves a great deal of knowledge and experience that I call on from my seven years of working for DHU.
"What I enjoy most about working for DHU is the amazing teamwork we have spanning across all departments. This really came to the forefront during the recent national Adastra outage where we all pulled together. It was a really challenging period but we got through it together which is something that makes me very proud. What I find really special about this role is the relationships between the Operational Shift Leads and Deputy Operational Shift Leads. We work so well together and understand each other's priorities and roles; I for one feel very fortunate to be a part of such a closely bonded team.
"My proudest moment so far with DHU was the day I became a Senior Health Advisor. It was a brand new role that had just been created so to be one of the first was a real buzz. I felt very fortunate to have had the opportunity to get the job and then to have been a part of the huge transition in terms of how the role has developed over the years. It's been great to see and I feel that I've made a difference to that."
Thanks to Cat for telling us about her role and keep your eyes peeled for DHU's next #WhatDoYouDo.
Interested in finding out more about DHU? Why not check out our Facebook, LinkedIn, Twitter, and Instagram pages and follow us for more updates.