Publish date:

19 September 2023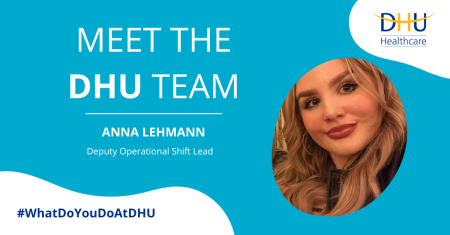 We like to highlight the different ways you can have a career at DHU Healthcare and today we'd like to introduce you to Anna Lehmann who has made the leap from Health Advisor to Deputy Operational Shift Lead (DOSL) in just two years.

There are a number of different career paths you can take within our 111 teams, here's Anna's story…

"I joined DHU in August 2021 as a Health Advisor, a role that I did for around a year before realising that I wanted more so began looking into using my experience as a Coach. I spent quite a bit of time in Oldbury training up the Health Advisors who were moving across from West Midlands Ambulance Service. We were training people who already knew the role but were used to a different system as well as brand new starters; it was a thrill to see the Advice Centre grow as a team.

"I was a Coach for 9 months before again deciding that I wanted to advance further so, after chatting with my Non-Clinical Performance Manager to talk through my skills and what I enjoyed, applied for the DSOL role. I enjoyed the auditing side of my roles, as well as giving advice, educating and guiding people, so this was a good fit for me.
"It's a very different, surprisingly varied role and you get to find out more about some of the other services that we work in partnership with and who we refer patients to, so you get a very wide view of the health system. This includes other out of hours providers, Urgent Treatment Centres, GPs as well as people across other areas of DHU so I've got a very different perspective to the one I had as a Health Advisor.
"There are different responsibilities in terms of decision making. For example, depending on our capacity and call volumes we can raise the number of calls we receive, taking some of the calls from London Ambulance Service for instance. It's the Operational Shift Leads who make those decisions, involving our input. We also look closely at pass backs to see where calls have been sent or referred to, to help us understand our performance and patterns of activity.

"I liaise with lots of different clinical and non-clinical colleagues to understand what's happening on shifts and there is an element of problem solving. I suppose that's where my interest in auditing comes into play, I like to understand the bigger picture and to be kept busy, so this has been an interesting and eye-opening path for me to take. I've only been in this role for a little more than a month, but I am enjoying and getting a lot out of it.

"There is certainly a career within 111 if you want it and lots of different choices you can make from being a Health Advisor, depending on your ambition and what you enjoy doing. My advice to anyone joining and wanting to progress is to take any shadowing opportunities you can to get a broad picture of what the other roles involve. When you find one that interests or inspires you, find out what you need that will help you in an interview, the experience, skills or knowledge that will set you apart. Don't be afraid to ask for advice from someone already in the role, I would be happy to explain more about what I do and how I got into it to anyone with an interest in progressing into it.

"But most of all, talk through your ambitions with your Line Manager. They will help to guide you, prepare you and talk you through what you enjoy, what you're good at and what you need to improve on. That last part isn't criticism, it's feedback and will help you to become more complete in your role. They know you, see how you work and understand what's needed to put you on the right path. It's your decision at the end of the day but there is a whole team around you that you can tap into for advice; it's up to you to use it."
Interested in finding out more about DHU? Why not check out our Facebook, LinkedIn, Twitter, and Instagram pages and follow us for more updates.