Publish date:

23 August 2022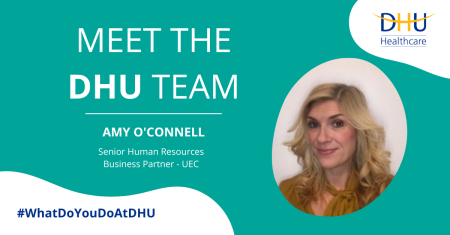 Our Human Resources team across DHU make sure that everyone, whether on the frontlines or behind the scenes, are fully supported and able to do their jobs.
Today we are talking to Amy O'Connell who is part of this essential team and who has recently moved into the role of Senior Human Resources Business Partner for our Urgent and Emergency Care division.
Amy started out in DHU as the Human Resources Business Partner for LLR in December 2019, joining the company from an NHS trust. Speaking about her role, Amy said: "As the Senior HRBP for UEC, it is my role to support the HR teams in delivering the best possible HR services to our colleagues and to ensure the team are nurtured, guided, supported, and appreciated in all that they do."
"A key part of my role is to partner with the organisation and the leadership teams across the counties, supporting in any way we can the delivery of our services to the patients in our communities; whilst ensuring focus on DHU's strategy and values with its employees at the forefront to ensure they have the best possible journey with DHU.
"I am a true partner, and it means my days can be quite meeting, email and call heavy. These can be valuable in ensuring that I am sighted and able to participate and provide my professional advice across a variety of tasks such as; workforce strategy, bids for new services, CQC audits, service updates/requirements, Management of change and organisational development. As well as partnering, I provide guidance and advice on a multiplicity of HR topics such as all employee relations matters, strategic development, individual development and coaching as well as having a key focus on continuous improvement.
"What I like most about working for DHU is the autonomy in your role and being able to apply my broad HR knowledge and skills in all that I do. Working with great teams who are passionate is amazing, adding a fascinating dynamic to every task and each day.
"It is hard to pinpoint a proudest moment in my career, but I am proud of the relationships that I have across DHU at all levels. It makes working at DHU and doing your job pleasurable, even in challenging times.
"If I were to give anyone any advice, it would be to be kind, don't judge and laugh at every opportunity that is presented to you!"
Thanks to Amy for telling us about her role and keep your eyes peeled for DHU's next #WhatDoYouDo.
Interested in finding out more about DHU? Why not check out our Facebook, LinkedIn, Twitter, and Instagram pages and follow us for more updates.