Publish date:

1 March 2023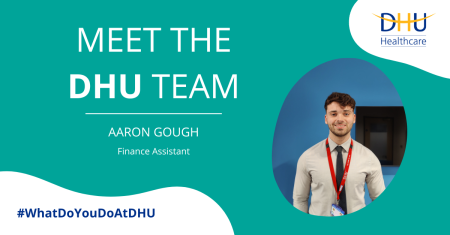 We recently shared some stories about the great work being done by DHU Healthcare's apprentices to mark National Apprentice Week.
We thought it might be a nice idea to catch up with the Class of 2022 to see how they're doing a year later and spoke to one of our finance apprentices about his experience of joining DHU. Now a permanent member of the DHU Healthcare team, Aaron is back to talk about how his career has developed within DHU and his hopes for future progression.
Here's what he had to say…
"When we spoke last year, I was studying for my Level Four Qualification and shortly afterwards I completed my finance apprenticeship. I really enjoyed it and learning on the job gave me the opportunity to get the practical skills that were necessary for the role of finance assistant.
"Since then, I've taken on more responsibilities within the team and have started to lean more into the management accounting side of finance. It's a great way to understand how the company works and even though I'm still always learning, it feels like a step up for me.
"One of the things that sets DHU Healthcare apart from other companies is its strong focus on values, specifically its CARE values. As a finance assistant at DHU, I have been impressed by the dedication of my colleagues to living out these values, placing a high priority on treating people with compassion and respect. People are always approachable if you are struggling and since I started here, I've always felt supported by the team, my manager Sarah and other colleagues.
"For me, the main draw of an apprenticeship was the ability to learn on the job. I knew I wanted a career in finance, but I didn't want to spend years in university before getting real-world experience. The apprenticeship allowed me to learn from experienced colleagues in a real work environment, which helped me to build my skills and knowledge much faster than I would have in a classroom.
"Unlike friends I know who are studying finance at university, I found the apprenticeship to be a more hands-on approach that was better suited to my learning style. Whilst a university education provides a broad range of knowledge, an apprenticeship allows you to apply that knowledge in a practical setting. In my opinion, this is especially important in a field like finance, where experience is highly valued.
"I would absolutely recommend an apprenticeship to others interested in pursuing a career in finance. It has given me a unique opportunity to learn valuable skills and gain experience in a real work environment. Not only that, but it's a great way to get your foot in the door and start building a career, and it can be a more affordable alternative to a university degree.
"The next step for me, hopefully, is to continue within management accountancy and work towards starting a CIMA (Charter Institute of Management Accountancy) Qualification. My ultimate goal is to become a management accountant. I've always been interested in the strategic side of finance, and I think that this is a natural next step for me. The apprenticeship was a great foundation and I believe it has set me on the right path to achieve my career aspirations."
Thanks to Aaron for telling us about his role and keep your eyes peeled for DHU's next #WhatDoYouDo.
Interested in finding out more about DHU? Why not check out our Facebook, LinkedIn, Twitter, and Instagram pages and follow us for more updates.