Publish date:

22 June 2022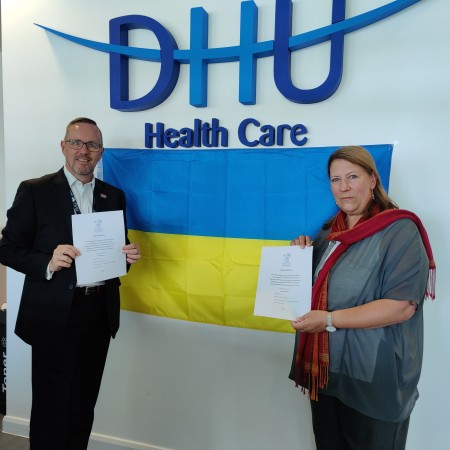 DHU Healthcare has committed to recognising and supporting those who serve our country by signing the Armed Forces Covenant.

By signing the Covenant, DHU Healthcare commits to supporting and recognising the value of our Armed Forces, current and past serving personnel, regular and reserve, veterans, military families and their contribution to society.

It ensures that all those who serve or who have served in the Armed Forces, and their families, are treated with fairness and respect and face no disadvantage. This includes patients that we treat and our colleagues across DHU.
DHU Healthcare Chief Executive Stephen Bateman explained: "I know we have a number of colleagues across DHU that have served the Armed Forces in a variety of ways and it is this diversity that brings a different perspective and outlook to how our own services work.

"There are a great many transferrable skills, both personal and practical, that come directly from experience of working within the Armed Forces. The self-discipline, organisation, respect and supportive nature of a career in the Armed Forces allies with some of our values alongside being able to recognise and empathise with colleagues and patients when talking through symptoms and making treatment plans.
"Like our colleagues, they work hard to keep people safe every day and the connection we feel with our Armed Forces partners is very clear. I'm delighted to acknowledge this show of faith and support between us, both as public servants and to cement our commitment to those former servants who work with us and who join our ranks in the future."

The signing comes after DHU was also involved in an Armed Forces Covenant signing as part of the Leicester, Leicestershire and Rutland Health Partnership that took place at Leicester Hospital last year. Our Senior Nurse Practitioner Robert Shoosmiths (pictured below, third from the right) who was Senior Aircraftsman with the Royal Air Force Reserve and Dr Joanne Finney (below, far left) were there to sign on our behalf on Monday 16th August 2021.

The covenant (pictured above with DHU Chief Executive Stephen Bateman and Deputy Director of People) was signed by Senior Recruitment Business Partner Kim Robinson on behalf of DHU Healthcare in June 2022. We are sharing the news with you to help mark Armed Forces Day on June 25th.

You can read more about some of our colleagues who have served their country including...

Carl Keeble (Clinical Practitioner Paramedic) who served with the Royal Navy - Click here to read his story
Connor Crabb (DHU111 Training and Development Manager) who served with the Royal Army Medical Corps - Click here to read his story