Publish date:

21 June 2022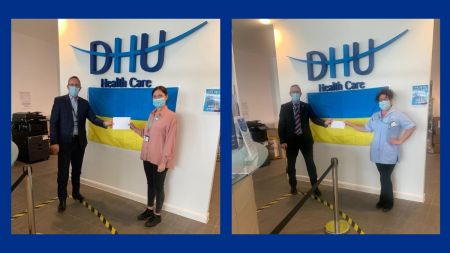 We would like to share with you and congratulate both Erin Miller (HCA) and Hayley Watkin (Community Staff Nurse) on their very well-deserved recognition and limelight win.
Erin and Hayley were nominated for the bravery they both portrayed when faced with a serious situation when on shift in a DHU vehicle visiting our patients in the community. Both went above and beyond the call of duty, using their skills to ensure the safety of others, and doing so in such a calm and collective manner. This is such a true credit to the DHU team and a shining example of the DHU values. You should both hold your heads high with pride.
Both were nominated by their colleague Tracy Fudge who said: ''Erin and Hayley acted quickly, contacting the emergency services and checking on the status of others. I believe they both deserve consideration for the Limelight Award.''
Thank you both – what an outstanding nomination and well-deserved win!
Pictured – Hayley Watkin (Community staff nurse) & Erin Miller (HCA)