Publish date:

24 May 2023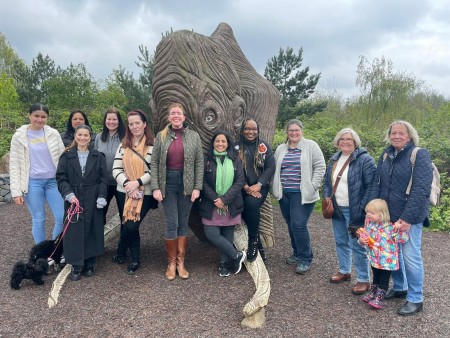 One of our colleagues would like to share a story about our Leicestershire 111 team, pictured above and based at Anstey Frith in Leicester, who live and breathe our CARE values.

They were Compassionate, Accomplished, Respectful and Encouraging when they supported Non-Clinical Performance Manager Anne-Marie Walker through a particularly tough time.

She asked us to share her story so that we could fully understand what the team did that meant so much to her after she was told that her loving sister was losing her battle with Cancer.

We're very sorry to say that since writing this piece, Anne-Marie's sister (picture below) passed away so, as a mark of respect and in support of Anne-Marie, we have waited a short while to share this story with you that comes to you with very kind permission of Anne-Marie and her family.

So, in tribute to a remarkable team and in Anne-Marie's own words…

"I did my training in Derby between 10th and 23rd January before heading over to Leicester on the 23rd, I'd been there less than a week when the phone call came in, it was Thursday 2nd February. We knew my sister was very ill with terminal cancer, so they let me have my phone on vibrate in case of any serious developments. I went to take the call outside and it was then that my Niece who told me my that the Doctors had said my sister only had a week to live.

"I began to physically shut down, hyperventilate. I have a heart condition and the team could see something was happening to me so came to help. I remember calling Rachel, who is our Clinical Lead at Ashgate in Chesterfield, who was amazing but couldn't calm me down so she rang for a nurse in Leicester who came and tended to me.

"The kindness and knowing what to do kept me together"

"I was physically unable to respond, kept slipping out of consciousness, and my heart rate was as high as 180. I was sat in a chair and Naomi, one of the Leicester 111 team, noticed that my arm was flopping up and down and realised that I was asking to be laid on the floor. She asked me and then laid me down, putting my head on her leg to keep me comfortable until the ambulance arrived. That kindness and knowing what to do kept me together and the Paramedics were able to pull me out of it before taking me to Glenfield.

"After I discharged myself the team were so supportive, knowing that I have a son at nursery and a son with autism who are very close to my Sister, it's not just about me and my feelings. But they were always asking me how I was, what they could do for me, some cooked food for me and picked me up when I was feeling a bit down. They looked out for me and recognised when I needed help which is what I needed.

"But it didn't end there. My Uncle John died very suddenly on Mothers' Day and then, on 31st March, I suffered a miscarriage and again it was Rachel who recognised my symptoms and told me to visit ED. I was back at work quite quickly because it was the team that kept me going, I enjoyed being with them, the way they talked to me, made me laugh, seemed to be in tune with how I was feeling. It was just what I needed and my needs at that time were to be in that environment instead of at home, possibly on my own.
"I honestly believe that if it wasn't for the team, I wouldn't have been able to cope. Not one of them skirted around the subject or treated me with anything but concern and compassion. They offered me advice, talked to me, Kim is a Mental Health Nurse and she made sure that from a wellbeing perspective I was okay and had the support I needed. They were so genuine and sincere, I can't thank them enough for looking after me.
"It was only a four month secondment so I'm back at Orbis but I wanted everybody to know what an amazing 111 team we have at Leicester. They're only small and a little hidden away which means they tend to get forgotten but I will forever be in awe of them and would recommend anyone who has the chance, to get to know them. Thank you for being there for me, you are awesome."