Publish date:

14 March 2023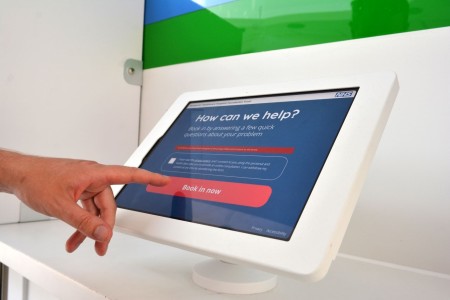 Patients at DHU Healthcare-run Loughborough Urgent Treatment Centre (UTC) will soon be able to use an eTriage system, installed by eConsult, to book in and ensure the most unwell patients are seen more quickly.

The UTC - managed by not-for-profit Community Interest Company DHU Healthcare - will be the first in the region to introduce the digital electronic triage system. With five eTriage kiosks which use algorithm-based questions about symptoms and medical history set to be installed in spring this year, the system will enable multiple patients to be booked in and assessed at once, whilst quickly identifying the patients most in need of treatment to prioritise their care accordingly. As part of this process, one kiosk will be designed specifically for patients with accessibility needs.

During the book-in process, patients will be asked to input details in response to specific questions about their condition. These questions have been written and designed specifically by urgent and emergency care doctors and nurses to help provide clinicians with the information needed to prioritise and improve the flow of patients, ensuring the more serious cases are seen first.

This implementation of the eConsult's eTriage system will speed up time to assessment, reduce queues for the reception team and free up a clinician to treat patients who would normally triage individuals and flag up the more serious cases much earlier in order to improve the patient experience.

"Improve the experience for patients..."

Adele Peck, Clinical Service Lead for DHU Healthcare, based at Loughborough UTC, said: "It really is an excellent system that will improve and streamline the booking-in and triage process for patients. The way our main entrance is structured means that at peak times we can see patients queueing out of the door. But being able to effectively book in and triage patients - five at once in a short space of time - will greatly reduce that risk and improve the experience for patients.
"The process is straightforward and alongside the standard questions such as name, age and date of birth, patients will systematically be asked questions about their general health, medical history, specific symptoms and how and when they became apparent. The questions and follow-up questions based on those responses have been specifically designed and phrased by A&E clinicians to follow a logical pathway and include certain responses that will alert our clinicians to escalate immediately."
The process should only take patients a few minutes to complete, the kiosks have privacy screens to respect patients confidentiality and dignity and there will be a receptionist to answer any queries, concerns and support with the check-in process. Once complete, the patient will then be asked to take a seat and wait in the reception area for treatment or, in some cases, be referred to a more appropriate place for treatment if their condition is not urgent or if they need transporting to hospital for treatment.

"Ensure the patient gets the right treatment more quickly..."

Sophie Frearson, Clinical Operation Lead at eConsult Health and A&E Sister at Kings College Hospital, is responsible for installing the kiosks. Commenting on the partnership, she said: "The system will have a positive impact on patient care at Loughborough, particularly during busy periods when queues can develop, supporting the team in quickly identifying seriously ill patients. It also ensures all of the detail is captured digitally, with very little risk of error as the patient is in control of the information they provide. We have spoken with patient representatives who have seen a demonstration of the system and we have used their feedback to influence the way we introduce and install it.

"These kiosks will ensure the patient gets the right treatment more quickly, even if that advice is simply reassurance that a visit to the pharmacist or self-care is the most appropriate. It is all part of system-wide efforts to make sure all patients and health providers are making the best use of NHS resources to direct patients to the most appropriate place to treat their needs."

Loughborough UTC sees a high number of walk-in patients each day. The eTriage system is part of wider plans to relieve pressure on the unit through more efficient streamlining of patients and prioritisation of the more serious cases.

eTriage works in partnership with CLEO systems patient management solution to deliver digital triage.