Publish date:

11 September 2023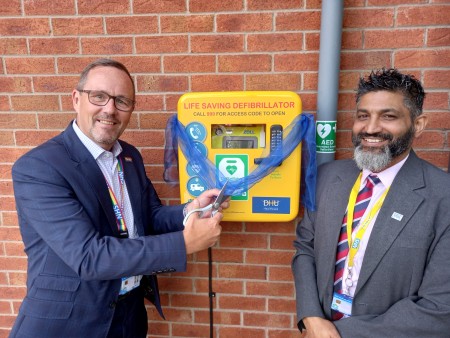 A life-saving piece of kit has been installed at DHU Healthcare's Derbyshire headquarters that will benefit hundreds of people at Pride Park Business Park in Derby.

DHU Healthcare has been updating and replacing its complement of defibrillators across its many sites and has factored in units that can be used by surrounding buildings and the public, situating them outside their main entrances. The one in Derby is the first to be made 'live' with more to follow.

Bobby Qayum is DHU's Resuscitation Lead, told us: "This piece of kit can be an essential part of saving a person's life and we're delighted to be able to have one that our business neighbours and members of the public can use, especially being so close to the train station. From my perspective as the Resus Lead at a health provider, it makes perfect sense for us to house one.

"Towards the end of last year we were aware that we needed to equip our sites with new units that will be compliant with future changes to safety legislation and are already well into our programme of replacing the old units. We're so pleased that the budget has been found to be able to go one step further and, where possible, install these community machines on site. It reflects our community values and reaffirms our place as an integral part of the wider health system.

"Essential Life-Saving Skills"

The units need to be housed in a special cabinet that is attached the building, keeping it at the right temperature and protecting it from the weather. When needed, it is easy to use once switched on there are on screen instructions that tell you exactly what to do and how to use it. In the case of the one at DHU's Roundhouse building, if the worst happens, the machine needs to be used and the person is unsure of what to do, those inside will be able to help.

Bobby explains: "As part of the Mandatory requirements we provide regular Basic Life Support (BLS) sessions here and across our DHU sites to properly demonstrate and learn essential life-saving skills. This includes physical demonstrations on a clinical dummy within a safe environment to understand how to recognise an unwell person to continuing CPR until emergency services arrive in the event of a cardiac arrest.
"We pride ourselves on making sure our people are ready to put into practice the very specific actions needed to provide good CPR and the early use of the defibrillator. As a provider of healthcare and our responsibility to educate our colleagues on what to do in an emergency, we can also now do that outside our headquarter offices so that in an emergency, we can provide that care until the paramedics arrive to take over."
Social Responsibilities

Stephen Bateman is Chief Executive of DHU Healthcare, he added: "As a not-for-profit, Community Interest Organisation that provides urgent and emergency care services across a number of different communities in the Midlands and beyond, we take our social responsibilities very seriously. We have health professionals at GP Practices, hospitals, Urgent Treatment Centres and in the community but it is pleasing that we have the facility to provide that initial emergency treatment at our corporate HQ as well.

"I've seen the work that Bobby and his team do in enabling colleagues to be able to act in an emergency. When the opportunity came to bring in new defibrillator units, it seemed like the right moment to extend that to a community unit. It's such a pleasure to see that realised and a reassurance to our neighbouring business here at Pride Park that if the worst happens, we have the means to save a life right on our doorstep."

You can find out more via this video, featuring Bobby explaining more about the defibrillator and how it works - click here to view.