Publish date:

21 June 2022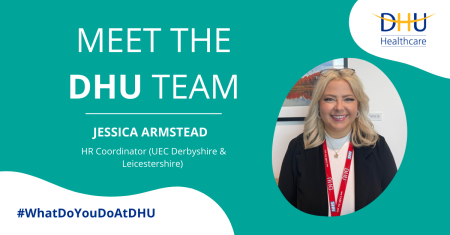 This week we'd like to introduce you to the lovely Jess in HR who has worked at DHU for two and a half years.

She has recently been promoted to the role of HR Co-Ordinator and featured in one of the videos we put together to launch our new strategy, explaining how her role brings one of our critical success factors to life…'People'.
Jess said: "My previous roles and background working for DHU have been within HR in the admin services before progressing to my current role which is HR Coordinator. I'll typically get involved in recruitment, raising vacancies, arranging interviews and recruiting within substantive roles, as well as working with clinical recruitment, Sessional GPs and agencies.

"I manage and monitor the monthly sickness data and employee relations cases, providing HR support to the managers and HR Business Partners during investigations, grievances, and disciplinary meetings. I also support the wider HR Team with payroll changes including Change of Circumstances for our colleagues and monitoring DHU starters and leavers.
"For me, it's the people I work with that makes my job that bit more enjoyable. We're fortunate to have a great team behind us and I have formed so many amazing relationships with so many different people across DHU. The support and encouragement I've received since I arrived has really spurred me on and given me the confidence and ability to progress. DHU is a lovely place to work!
"My proudest moment to date has to be developing and moving up in my role within HR which has given me a real boost and sense of value. I've had such positive feedback from the l teams I work with which goes a long way to building confidence and making me feel that I belong…DHU is a lovely place to work.
"In terms of advice to anyone starting here, it's easy to spend the majority of life in your head so make it a happy place to be. I think we're getting to a place where mental health is becoming something we're all more aware of and it's so important to look after ourselves and each other."
Thanks to Jess for telling us about her role and keep your eyes peeled for DHU's next #WhatDoYouDo.
Interested in finding out more about DHU? Why not check out our Facebook, LinkedIn, Twitter, and Instagram pages and follow us for more updates.