DHU Healthcare is committed to the Armed Forces Covenant, a pledge to support the armed forces community by treating them with fairness and respect.
The Armed Forces Covenant was published in May 2011 by Central Government and is a commitment that has been made in recognition of the sacrifices made by those who serve or have served on behalf of the country.
It is designed to ensure that our Armed Forces Personnel, Veterans and their families are treated fairly and have the same access to services as the civilian community has.
On Wednesday January 18 2023 DHU Healthcare proudly signed the Covenant.
We agreed to uphold the key principles of Covenant, which are:
No member of the Armed Forces Community should face disadvantage in the provision of public and commercial services compared to any other citizen
In some circumstances special treatment may be appropriate especially for the injured or bereaved.
The full Covenant can be found here.
Pictured is our CEO Stephen Bateman alongside Captain Lewis, Tony Armstrong of the Veterans Covenant Healthcare Alliance, Stuart Ellis from the East Midlands branch of the Reserve Forces; and Cadets' Associations and DHU's Clinical Governance Lead Jillian Clemas who joined DHU from the RAF last October.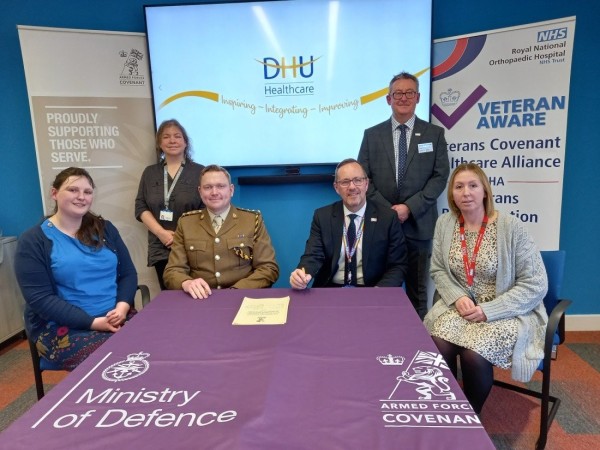 ---

The NHS website provides more information on the healthcare choices for the Armed Forces community, which can be accessed here.
You can find out more on the Armed Forces Covenant website.